Discover more from DNSDecrypt
Decoding the politics and policy of the Internet's plumbing.
The Internet's Security & Stability Is Independent of VeriSign's Margins
A company with 69% operating margin shouldn't be tying security and stability of the Internet to price increases.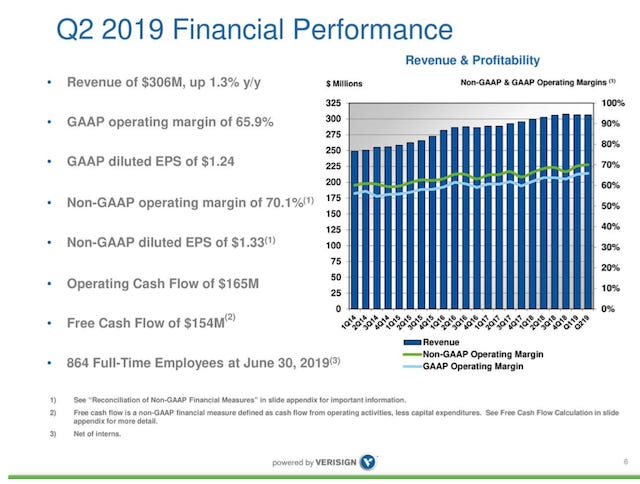 On July 25th, VeriSign reported its second quarter 2019 earnings and conducted an earnings call with investors. As CEO Jim Bidzos noted, it was another "solid quarter" for the company , with earnings mostly on target and non-GAAP operating margin expected to hit 69% for the fiscal year.
As expected, there was some discussion during both the prepared remarks made by Jim, as well as during the Q&A with financial analysts, pertaining to the necessity of adding conforming language to the .COM registry agreement that will permit the price increases that have already been approved by the National Telecommunications and Information Administration (NTIA) in Amendment 35 to the Cooperative Agreement.
From Jim's prepared remarks in the transcript:
As noted during our recent earnings calls, we are engaged in a process with ICANN to incorporate terms of Amendment 35 for the Cooperative Agreement, including the pricing terms into the dot-com registry agreement. For those not familiar with this, let me remind you that under the 2016 amendment to the dot-com registry agreement with ICANN, which extended the term of the dot-com registry.

We agreement (sic) -- we and ICANN also agreed to negotiate in good faith to flow through any changes that would be made to the Cooperative Agreement, including the pricing terms, and in addition to preserve and enhance the security and stability of the dot-com registry of the Internet. These discussions with ICANN are ongoing. And at this time, there are no further details to share. Of course when appropriate, we will update you.
And from the Q&A with financial analysts:
Matt Lemenager

Okay, got it. And then, just my last one, the process on the dot-com pricing with ICANN. Is that something that's maybe taking longer than you thought to get that amendment or is this about the timeframe that you thought nothing outside of the time frame that you expect it to get that kind of stamp of approval from the ICANN RA amendment?

Jim Bidzos

So we're actively engaged in this process, as I said, and we won't be able to comment and don't comment on any details of discussions. And like I said in my prepared remarks, we're going through a process to incorporate the terms approved in Amendment 35, including the pricing terms into the com agreement with ICANN.

But also, as part of the 2016 amendment, Verisign and ICANN, a 2016 amendment that we made back then to extend the com agreement, Verisign and ICANN agreed to negotiate in good faith the flow through those changes, including pricing, but in addition to preserve and enhance the security and stability of the com registry of the Internet. So no updates beyond that.
Responsible and vigilant stakeholders should be questioning what exactly is going on with this process — after all, proposed, now-approved, pricing-related amendments to the .ORG registry agreement sparked more than 3,300 dissenting comments from stakeholders and with only six voices in support. The .COM registry has more than ten times the number of domain name registrations and there is likely to be a large spike in the number of objections raised during public comment on any proposed changes.
It will also be interesting to see whether ICANN succeeds in re-using its contractually innovative method of taxation that it created for the .NET registry and inserts a "special development fund" contribution into the .COM RA amendment. After all, new generic top-level domains (nTLDs) aren't performing in the market as well as expected, the non-profit can't count on another .WEB-like $135 million winning bid contribution, another round of nTLDs — with their six-figure application fees — isn't imminent, and there is still that pesky $23 million reported budget shortfall that is getting in the way.
Even more interesting will be seeing whether ICANN negotiates intellectual property rights protection mechanisms (RPMs) and anti-abuse provisions into the .COM RA, similar to what was inserted into the .ORG registry agreement in exchange for pricing flexibility sought by the registry operator and, in any event, are included in all nTLD registry agreements — which, as Jim noted during the earnings call, apply to more than 1,000 domain name registries and, as such, should be considered to be standard operating procedure for the DNS at this point.
Of course, ICANN didn't have 20-year old .ORG domain name registrations that it was seeking to convert into cash money for a shadowy, secret list of non-profit organizations — but it has a slew of those very same things for .COM and properly applied RPMs would put a severe crimp in that plan. Which seems to suggest that RPMs will be included only if a "special slush fund" is also created and that would provide a substantial and annually recurring source of alternative, direct revenue for ICANN.
Clearly, ICANN and VeriSign are engaged in protracted negotiations over Amendment 3 to the .COM RA. If not, then why — when Amendment 35 to the Cooperative Agreement was agreed to last October — has it taken almost a year to "flow through" those changes?
Jim was also careful to note, twice, that the "flow through" of changes from Amendment 35 to the .COM RA did, in fact, include pricing issues, but "…in addition to preserve and enhance the security and stability of the com registry of the Internet."
If stakeholders were doing their job, then maybe one or two courageous crackpots might have the temerity to ask why that point is being emphasized by a company with a public interest concession that is enjoying a 69% non-GAAP operating margin and that uses more than 90% of its free cash flow for stock buybacks?
Given those financial and publicly-reported realities, what threats to the stability and security of the Internet would arise if VeriSign is unable to raise prices?
Is VeriSign signaling that, in the absence of being permitted to increase its profit margin further, that it will choose to allow security and stability risks to go unmitigated in favor of continuing its stock buybacks and maintaining stunning margins?
If not a veiled threat, then how else should the company's gratuitous linking of potential pricing increases together with security and stability be understood?