Scrutiny of Big Tech Needs to Get to the Internet's Root
Much attention is paid to the market power of Big Tech at the edge of the Internet — but what about the Internet's core? After all, shouldn't efforts to scrutinize the misbehavior of Big Tech also include what goes on at the root of the Internet?
Here's a recap of some relevant posts, along with additional commentary:
by Matt Stoller - BIG
September 16, 2019
First, anybody with even a passing interest in corporate market power should be reading Matt Stoller's (Open Market Institute) Substack newsletter, BIG, an eminently readable analysis offered by an experienced veteran of competition policy, including in the technology space. His latest reporting is heavy on details about the Congressional investigations of Google's market power including the types of questions that are being asked and documents being demanded by staff investigators. It reveals that Congress has figured out that they are going to have to put their game faces on if they hope to accomplish anything meaningful.
Matt posted this Tweet — which included a very generous link to this author's recent post, Keeping a Free and Open Internet Starts at the Root.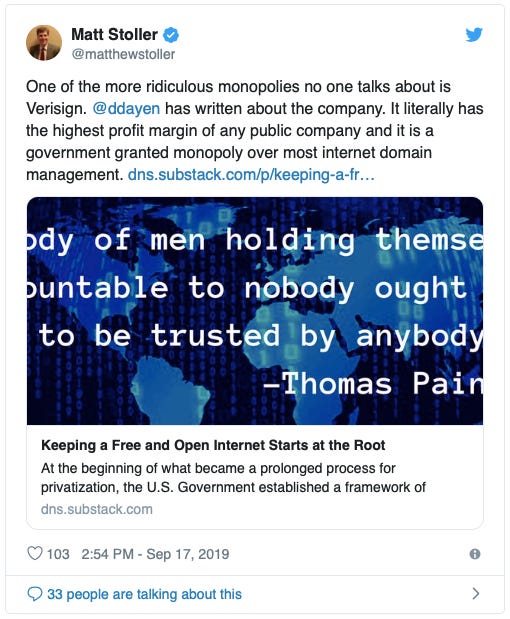 By David Dayen - The Nation
February 15, 2018
This highly-detailed article shows that Warren Buffett's kindly public persona is the kinder, gentler cover for a rather cutthroat strategy of "widening the moat" that he and a small group of lieutenants at Berkshire Hathaway pursue as their core investment strategy. To illustrate what this means, the article cites Mr. Buffett's own words to Congressional investigators during a hearing on the ratings agencies' role in the 2008 financial crisis:
"The single most important decision in evaluating a business is pricing power," Buffett said. "If you've got the power to raise prices without losing business to a competitor, you've got a very good business." The "big three" rating agencies—Moody's, Standard & Poor's, and Fitch—controlled 95 percent of the rating-agency market, an insurmountable advantage over would-be competitors. "If you've got a good enough business, if you have a monopoly newspaper or if you have a network television station," Buffett concluded, "your idiot nephew could run it."
The article goes on to examine two companies as prime examples of this strategy in action. The company that the author chose as Exhibit A out of Berkshire Hathaway's entire portfolio? None other than VeriSign — and Mr. Dayen (@ddayen) recently Tweeted: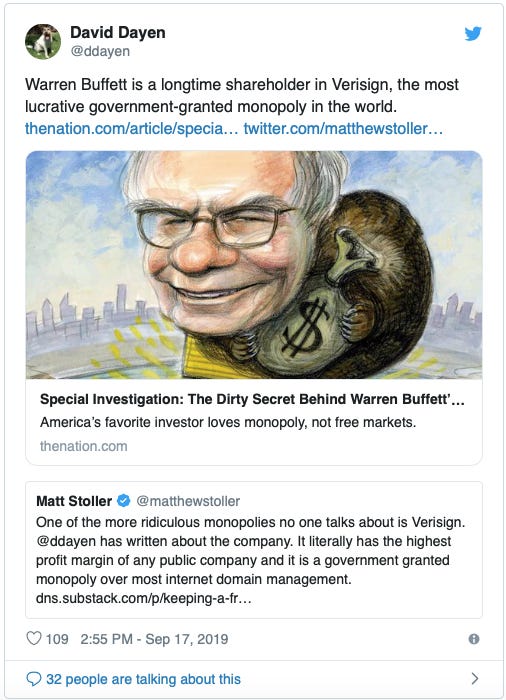 by Alec Stapp - Truth on the Market
August 8, 2019
This recent article points out that all of the outcry about Big Tech doesn't include Microsoft, which has been the subject of extensive antitrust scrutiny in the past (and is also this correspondent's former employer). Mr. Stapp highlights the fact that Microsoft meets most, if not all, of the same criteria for market size and power as any of the other conglomerates that make up Big Tech. But he also points out that, in the world of antitrust, "big is not bad; big behaving badly is bad."
This is very similar to this correspondent's view as well, that monopolists don't run into trouble with competition regulators until enough people get fed up with their bullying behavior. Antitrust usually begins as a political problem that mutates and metastasizes into a much more serious affliction after prior treatments proved ineffectual.
But what is far more interesting and significant in this analysis is it's mention of a critical benchmark for antitrust: the "small but significant and non-transitory increase in price" (SSNIP). A highly relevant excerpt from Wikipedia:
The application of the SSNIP test involves interviewing consumers regarding buying decisions and determining whether a hypothetical monopolist or cartel could profit from a price increase of 5% for at least one year (assuming that "the terms of sale of all other products are held constant"). If sufficient numbers of buyers are likely to switch to alternative products and the lost sales would make such price increase unprofitable, then the hypothetical market should not be considered a relevant market for the basis of litigation or regulation. Therefore, another, larger, basket of products is proposed for a hypothetical monopolist to control and the SSNIP test is performed on that relevant market.

The SSNIP test can be applied by estimating empirically the critical elasticity of demand. In the case of linear demand information on firms' price cost margins is sufficient for the calculation. If the pre-merger elasticity of demand exceeds the critical elasticity then the decline in sales arising from the price increase will be sufficiently large to render the price increase unprofitable and the products concerned do not constitute the relevant market.

An alternative method for applying the SSNIP test where demand elasticities cannot be estimated, involves estimating the "critical loss." The critical loss is defined as the maximum sales loss that could be sustained as a result of the price increase without making the price increase unprofitable. Where the likely loss of sales to the hypothetical monopolist (cartel) is less than the Critical Loss, then a 5% price increase would be profitable and the market is defined.
This is a helpful benchmark to apply to monopolists and cartels of all sorts. But if critical scrutiny is to be brought to bear to those allegedly bad actors at the Internet's edge, then reason dictates that it ought also be used to examine the avowed monopolists at the Internet's core. Using this helpful SSNIP lens then, reveals the following:
A price increase of 7.5% in the annual registration price of .COM domain names surpasses the threshold to qualify as "small but significant.";

The relative non-existent marginal cost associated with domain name registrations — seemingly evidenced by the inexorable phenomenon of steadily increasing total number of .COM registrations and just-as-steadily diminishing expense numbers as reported by the registry operator — suggests that most, if not all, of this SSNIP would, indeed, be profitable.
The other factor cited by Wikipedia is a term called "elasticity of demand." In basic layman's terms this measures how many customers the monopolist will lose to competition if it decides to SSNIP. This is interesting to contemplate when taking into consideration the usage of .COM domain names, as reported in a study conducted earlier this year by the Singapore Data Company: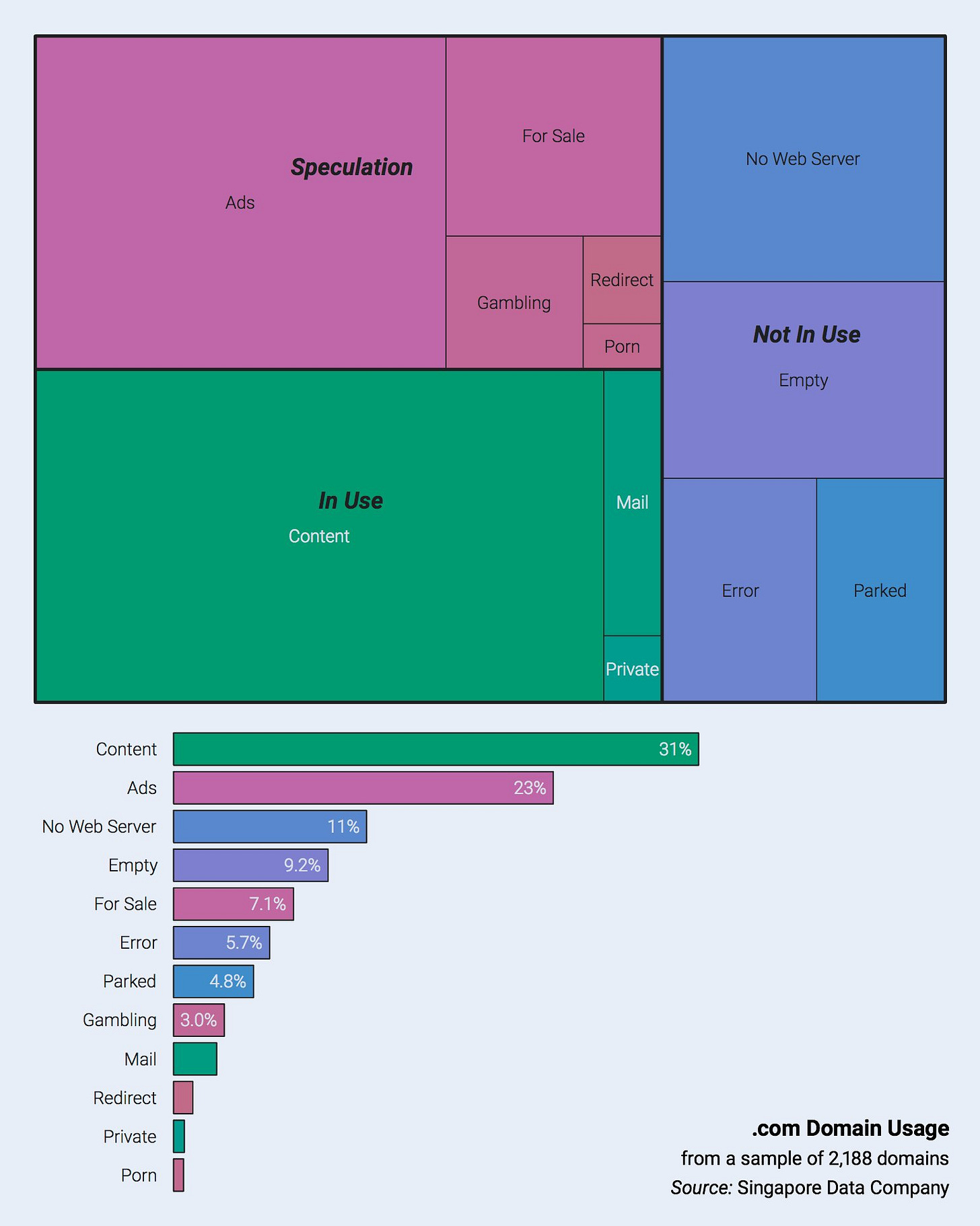 This chart may be an opportune endpoint and allow readers to reflect on the vast scale of accumulating market power and wealth, with more on the way, for overseeing the editing, encrypting, and publishing of a .TXT file — an automated process driven by simple commands entered into an online portal by registrars on behalf of their registrant customers — for a domain name registry where the 31% of content-delivering sites are outnumbered — more than two-to-one — by advertising and junk.
Much attention is paid to the market power of Big Tech at the edge of the Internet — it's time to include the marauding monopolists at the Internet's core and stop their SSNIP-ing of the public interest.